7-8 Grade JR Cheer sign ups, 3:30 Monday at Fred Moodry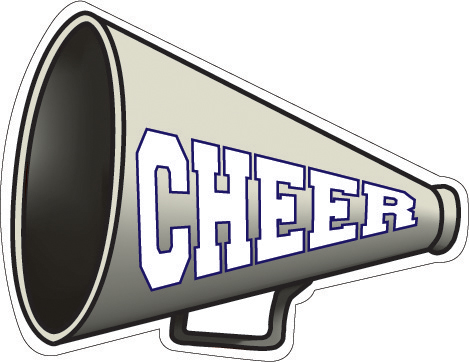 SPECIAL BOARD MEETING FRIDAY, AUGUST 27TH AT NOON LINCOLN SCHOOL LIBRARY Join Zoom Meeting
https://us06web.zoom.us/j/82543305733?pwd=My9FKy9WYUVIUVZnczdjcFM1eUJiUT09
Meeting ID: 825 4330 5733 Passcode: 378433 One tap mobile +17207072699,,82543305733#,,,,*378433# US (Denver) _____________________________________________________________________________________ CALL TO ORDER {12:00}: Chair Morley 1. PLEDGE OF ALLEGIANCE 2. ROLL CALL 3. APPROVAL OF AGENDA 4. PUBLIC COMMENT The Board may hear public comment on items not currently on the agenda that are not collective bargaining issues or personnel issues, pursuant to Board Policy 1441. The Board shall not take action on any such issues at this time. Your Courtesy is Requested. Boisterous conduct will not be permitted. The Board Chair may terminate the right of any speaker to continue. Please complete the public comment form and submit to the Board Chair. – Audience Participation 5. ACTION ITEMS A. HIRE OF INTERIM SUPERINTENDENT 6. Board Member Information for the good of the order Adjourn

BUDGET/SPECIAL MEETING - TUESDAY 8/24/2021 - 7PM Join Zoom Meeting
https://us06web.zoom.us/j/87470440378?pwd=ckVWUkQxazMrM1NUYURZR2N5L3hRdz09
Meeting ID: 874 7044 0378 Passcode: 205669 Dial by your location +1 720 707 2699 US (Denver) CALL TO ORDER {7:00}: Chair Morley 1. PLEDGE OF ALLEGIANCE 2. ROLL CALL 3. APPROVAL OF AGENDA 4. PUBLIC COMMENT The Board may hear public comment on items not currently on the agenda that are not collective bargaining issues or personnel issues, pursuant to Board Policy 1441. The Board shall not take action on any such issues at this time. Your Courtesy is Requested. Boisterous conduct will not be permitted. The Board Chair may terminate the right of any speaker to continue. Please complete the public comment form and submit to the Board Chair. – Audience Participation 5. BOARD DISCUSSION/MEETING WITH JOHN SULLIVAN RE: Interim Superintendent Position 6. BOARD DISCUSSION/MEETING WITH ANN MORANI RE: Interim Superintendent Position 7. INFORMATIONAL AND DISCUSSION:  Tax Increment District Update and Bond Status  Discussion on Cancellation of CSCT with AWARE and plan moving forward 7. ACTION ITEMS A. SAFE RETURN TO SCHOOL UPDATE AND POSSIBLE ACTION – HEIDI NIELSEN B. Personal Action Report Category - Personnel Presented By – Chair Morley Facts to Consider – Recommendation – Approve as submitted *Any new employees are subject to background checks coming back approved. C. Review Proposal from Blake Hempstead-Anode Designs with possible approval Category – Business Presented By – Chair Morley Facts to Consider – Letter submitted by Mr. Hempstead in accordance to new policy Recommendation – Discuss and approve D. Approval of FY2019-2020 Audit Category – Finance Presented By – Gayle Holm Facts to Consider – Recommendation – Approve as presented D. Adoption of FY22 Budget: Category – Finance Presented By – Gayle Holm Facts to Consider – Recommendation – Approve as presented E. Discussion and Possible Hire for Interim Superintendent 8. Board Member Information for the good of the order Adjourn
Hello and welcome back to Fred Moodry Intermediate School. We are so excited to begin a new school year and look forward to working with our students and families. We have our Open House on Tuesday August 24th, from 3:30-6:30pm and then school starts Wednesday at 8:20am. The following information is for our Open House on Tuesday. Everyone will check in at the playground doors on 3rd street. There will be tables set up outside for check-in. Third grade students and parents will be able to attend in-person inside the building after they check in. Fourth, Fifth, and Sixth grade students will have a Virtual Open House for students to meet their new teachers. The zoom links are posted below. Fourth grade students will be able to meet their teachers from 4:30-5:30pm. 5th/6th grade students will meet their teachers from 5:30-6:30pm. If students in 4-6th grades want to drop off packets and receive a schedule, they may do so at the check-in table outside, then they will have to login to zoom to meet their teachers at the designated times. If students miss Open House, that's okay, they will then, turn in their packets to their advisory teachers Wednesday on the first day of school. We thank everyone for your patience, understanding, and support, and look forward to seeing everyone. Thank you. 4th Grade Zoom 4:30-5:30pm Topic: 4th Grade Open House Time: Aug 24, 2021 04:30 PM Mountain Time (US and Canada) Join Zoom Meeting
https://us02web.zoom.us/j/6961710586?pwd=Z3NhdVAyTXBMTDAwVGZPVTcxMndzQT09
Meeting ID: 696 171 0586 Passcode: 241538 5th/6th Grade Zoom 5:30-6:30pm Topic: 5th/6th Grade Open House Time: Aug 24, 2021 05:30 PM Mountain Time (US and Canada) Join Zoom Meeting
https://us02web.zoom.us/j/89944327659?pwd=WjJOb1JqOHNpMVUxNWZQM1JUalZPZz09
Meeting ID: 899 4432 7659 Passcode: D1gw9G

Rescheduled Budget Meeting/Special Meeting will be on Tuesday August 24th at 7:00 p.m. There will also be a Activities Meeting at 6:15 p.m. on the same night. You can join either in person or join the Zoom meeting Meeting ID 874 7044 0378 Passcode is 205869. Both meeting will be held at the Anaconda Junior Senior High School Little Theater.

Special Board Meeting - Wednesday, August 18, 2021 Board Packet Link:
https://5il.co/xafs
Location: AJSHS at 7:00 P.M.

School Board Work Session Wednesday, August 4, 2021 7:00 PM AJSHS Little Theatre Join Zoom Meeting
https://us06web.zoom.us/j/87308662865?pwd=ODJ3NHRrd2Z0ODA1WXhIbk4xQ2tMUT09
Meeting ID: 873 0866 2865 Passcode: 852711 One tap mobile +13462487799,,87308662865#,,,,*852711# US (Houston) +17207072699,,
ANACONDA PUBLIC SCHOOLS BOARD WORK SESSION MEETING Re-Opening Discussion - Meeting ID is 814 1776 2293 Passcode 446914 - Open to public in person and zoom - AJSHS Little Theater MONDAY AUGUST 2, 2021 - 12:00 NOON

Mary Lou McPhail, 3 days ago **Updated: Special Board Meeting with ATU will be held Monday 7-26-2021 beginning at 5:00 p.m with the Board of Trustees, mediation will begin at 6:00 PM.. This will be held at the Administration Board Room 1410 West Park Join Zoom Meeting
https://zoom.us/j/94205533034?pwd=SXFKWGJ4YStzUW5TdHlTL3hYQTBRdz09
Meeting ID: 942 0553 3034 Passcode: 203805t Park.


The ATU negotiations scheduled for tonight 7-19-21 has been cancelled and will be rescheduled ASAP.

Regular School Board Meeting - July 14, 2021 - 7:00 p.m. Little Theater 515 Main Street. Zoom information is: Meeting ID 999 4924 6189 Passcode is 672892

Special Board Meeting: Executive Session Rescheduled from June 8th June 24th, 2021 7pm-9pm Meeting ID: 915 7504 1719 Passcode 293123

Tuesday - June 22, 2021. School Board Meeting - MTSBA Model Plan For Safe Return to School Public Forum and Special Meeting. Meeting will be at 6:00 p.m. Zoom ID 918 4881 9725 Passcode 407679

Buildings I& Grounds Committee Meeting will be held on June 16, 2021 at noon in the board room. Zoom ID 924 6508 3857 Passcode 698550

Special Board Meeting 6-24-21 7:00 p.m. Regarding Executive Session regarding personnel issue and consideration and possible action on termination of Superintendent